2016 Election Coverage
Live primary night broadcasts. A California voter guide. Live tweeting debates. Covering rallies on Snapchat. Explaining the Electoral College on Facebook. Audio dispatches from caucus sites on Anchor. An original poll asking USC students about their choice for president. All of this is included in Annenberg Media's 2016 election coverage, which displays students' skills in reporting on the election across platforms. Scroll through this page to see highlights of their work.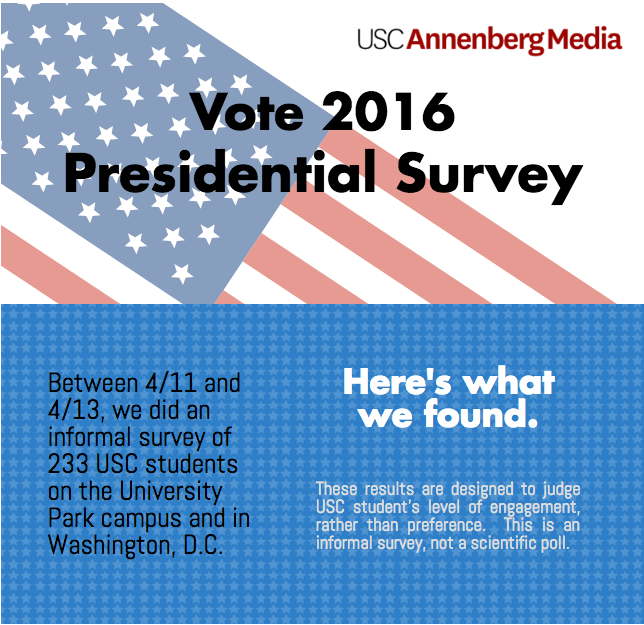 They don't think either one will be president, however.
April 18, 2016
---
---
---
---
Native social media storytelling is an important part of Annenberg Media's approach to reporting election news. See our complete social media coverage of this poll — as well as the rest of our 2016 election social storytelling highlights — by clicking here. You can also see some of our native Facebook videos below.
---
Facebook Videos
---
More Stories
April 4, 2016
---
March 7, 2016
---
March 6, 2016
---
March 5, 2016
---
March 4, 2016
---
February 29, 2016
---
February 17, 2016
---
February 9, 2016
---
February 4, 2016
---
February 3, 2016
---
February 2, 2016
---
February 1, 2016
---
January 29, 2016
---
January 17, 2016
Broadcast Coverage
Live Coverage: East Coast Super Tuesday
April 26, 2016
---
Daily Newscast: Bernie Sanders' First California Headquarters
April 20, 2016
---
Daily Newscast: Bernie Sanders Rally Coverage
March 23, 2016
---
Live Coverage: Super Tuesday
March 1, 2016